Top 3 Styling Tips For Kitchen Lighting
The kitchen. It is the hub of the house. The space you enjoy a quiet cup of tea in the morning. The place you have a bustling family dinner, lunch catching up with friends, that midnight chocolate bar once the kids are asleep…
It is safe to say we probably spend most of our time at home in the kitchen, and with open plan living on the rise, it's important to bring that same ambient vibe from your living areas into your kitchen to keep a calming softness flowing throughout your home.
However, we also have a lot of "jobs" in the kitchen. Whether it's paying bills, helping the kids with their homework, or cooking, you need more than "ambiance". We are going help with all your kitchen lighting needs and how to bring your own personal style to the centre of your home.
Most commonly, we use our kitchen for cooking, cleaning, or the afore-mentioned tasks, so having that brighter, practical light is super important. Directional lighting can come in a range of different lighting types such as spotlights, under-counter lights, and pendants.
Spotlights are perfect for sleek, minimal homes. Their almost non-existent profile makes them the perfect choice for smooth, low ceilings, allowing sufficient light without making too much of a style statement. But we are ALL about packing a design punch, so take a look at these stylish lights, whatever your kitchen interior style.
Kitchens with open shelving rather than cupboards are a great interior decision, however the lack of cupboards means you cannot hide those much needed under-counter lights, so why not use directional walls lights? The Contina Swing Arm Wall Light is ideal for bringing that "interior designer" look without the hefty price tag. These adjustable wall lights are perfect to bring that directional kitchen light and can even be repositioned to where you need it most.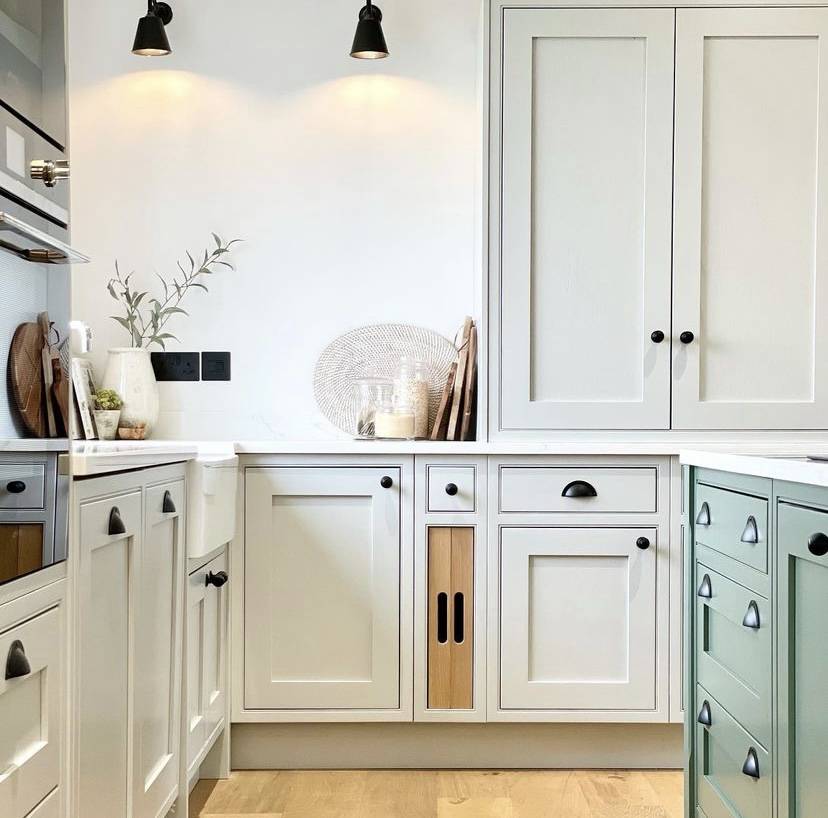 Image by @becomingbeechbarn
If you are after a ceiling light for your kitchen, there's no better option than a spotlight or track lighting. The flexibility this brings, not only where you point the light but how much light you can add, is ideal for busy kitchens.
Position your ceiling lights above islands or over counters to give you just the right level of lighting exactly where you need it. One thing to be mindful of is that spotlights can give VERY directional lighting, so think about combining spotlights with under-counter lights or wall lights so you're not always standing in your own shadow!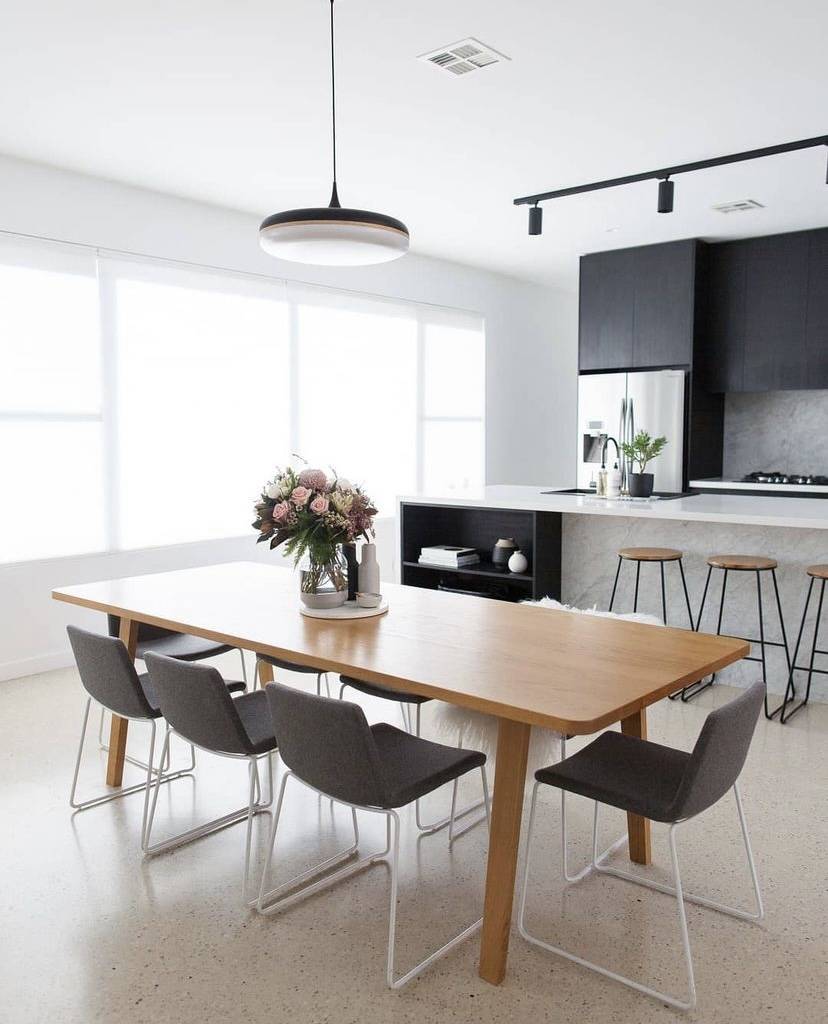 It's unlikely you will need, or want, your kitchen task lighting on all the time. Once the washing up is done and you're settling down with a glass of wine, switch on your wall lights or floor and table lamps to promote a serene environment to help get you bed ready!
A brilliant way to seamlessly combine the kitchen and dining areas into one multifunctional space is by choosing contrasting colours. Use black or darker coloured wall lights above the cooker for the tasks, and choose relaxation lighting in a soft white which almost disappears into the walls. This visible distinction between the two different lighting uses can take the space from "working" to "relaxing" with the flick of a switch.
To keep your kitchen looking beautiful while you're sat in your open plan living area, never neglect your breakfast bar. Typically used to help zone larger spaces, breakfast bars can create that pause point from one space to another. By hanging pendant lights over a breakfast bar you also create a wall of light, which not only allows you to use your work surfaces as a practical space, but also create that soft, twinkly atmosphere in an evening.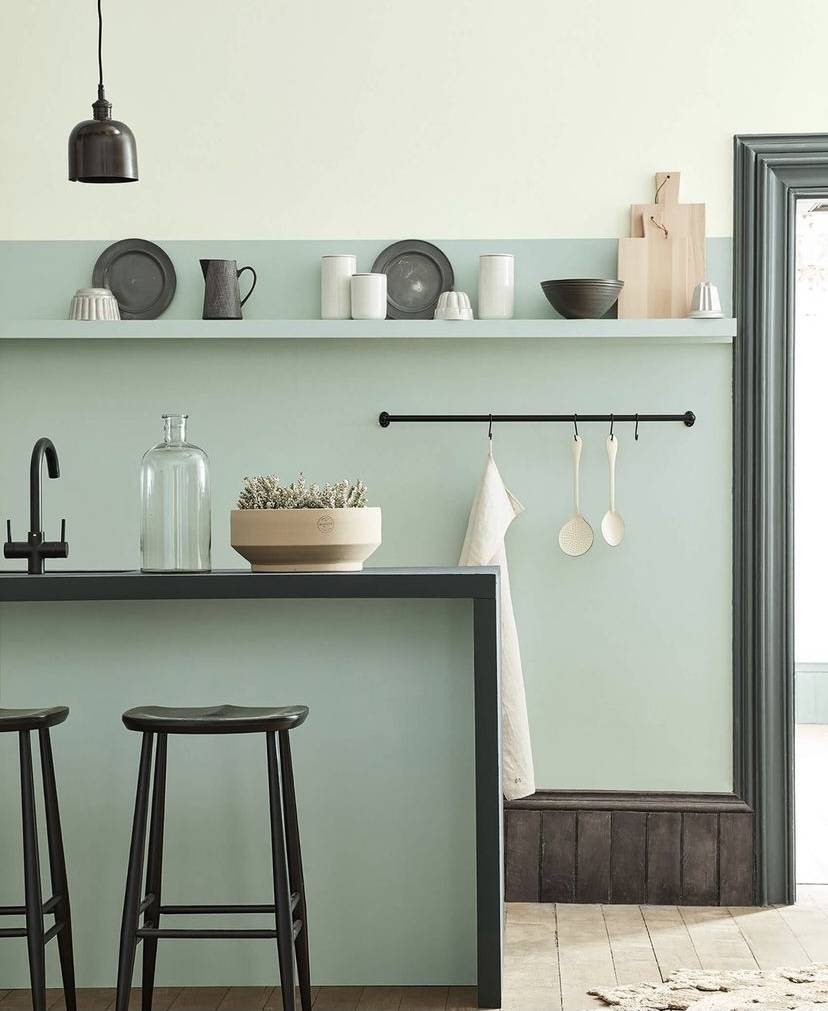 Image by @littlegreenepaintcompany
When it comes to lighting your kitchen, there are a million different avenues to go down, so before feeling overwhelmed remember these 3 top tips and you can't go far wrong…
Think about the USE of the lighting. Is it to light up the room to clean, cook or work? Or are you after that softer after-hours glow?

Consider the POSITION the lights? Over a dining table, under the counter, over shelving, the position of your lighting will help determine what style you should be looking for.

What is your STYLE? Shaker style kitchens look great with ribbed glass and brass, whereas minimal kitchens are amplified with clean shapes and minimal details.
Ask yourself these 3 key points and use this guide to help inform your style choice to create your dream kitchen environment.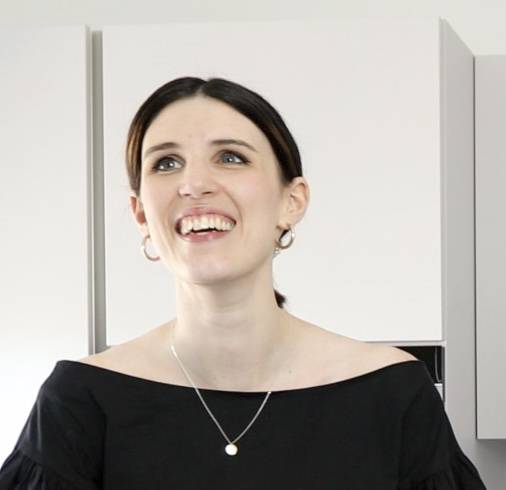 ---